August 23, 2021
Streamline Your Front Desk Operations and Boost Revenue
You know the scene well. You've seen it play out in your medical practice more times than you'd care to admit. The waiting room is full of patients waiting to see a doctor, one or two are getting a little irate; they've been waiting more than 30 minutes.
Meanwhile there is a line of patients waiting to check in, and another two waiting to pay.
Some days, the front desk feels like bedlam, and those busy and disorganized days can create havoc in the practice with errors made that could severely affect numerous other inter-office departments, employees and clinicians, and can also negatively impact revenue, collections and cash flow.
And it goes without saying that patients aren't left with the best impression of the practice and its clinicians when the front desk staff are overburdened, and perhaps rude and not empathetic to patients' needs, as a result.
The front desk also interfaces with clinical providers, billing and those who manage collections and revenue, and marketing and reputation management in addition to registration and scheduling. Because the front desk personnel impact nearly every other department and function in a medical practice, it is deserving of extra attention.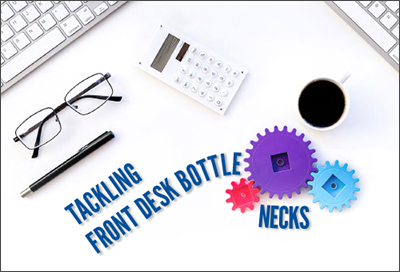 For that reason, this month's guide is squarely focused on Tackling Front Desk Bottlenecks.
Addressing your front desk bottlenecks will streamline your operations, make your practice more efficient and profitable, and result in happier and more satisfied patients, employees and clinicians.
When the Front Desk Falters
We open the guide with a discussion of what happens when the front desk falters and the negative impact it can have on almost every other area of the practice, including the lifeblood of the practice — revenue cycle management.
Errors at the front desk can result in unnecessary credentialing and insurance authorization mistakes and high claim rejections, which seriously impede cash flow and increase revenue aging. Not collecting payments and co-pays at the front desk during the patient visit also negatively affects cash-flow and can be costly to collect afterwards.
The next step is to uncover why the bottlenecks occur, which requires some investigative work and candid self assessment of your leadership, management and your team skills. Among the things that cause bottlenecks are having the wrong people in the wrong roles, inconsistent workflows that evolve haphazardly over time, and a lack of leadership vision and strong management at the top.
Optimizing the Front Desk
Once you've accepted your front desk operations are flawed, then you can begin the work of identifying the problem areas and reengineering the process and flow so it becomes more streamlined.
With this guide, you'll learn how to map your current workflow and design an optimal one. But fixing the front desk also involves evaluating the people you have in these important roles to ensure you are leveraging their skills to the maximum benefit of your practice.
And finally, once you've streamlined the front desk workflows, we offer tips and solutions to keep those operations on track and running smoothly.